First Wiki Update by Fanofkinopio! Also, sorry for the one hour delay!
Wiki Name Change
You may have noticed that Flipline Fan Customers Wiki's name has been changed to Flipline Fan Customers Fandom. But don't worry! JK stated in a previous wiki update that we will still be calling it Flipline Fan Customers Wiki rather than the new name (and FFCW rather than FFCF). Everything else remains the same except for the URL, but typing in "fliplinefancustomers.wikia.com" will still redirect you to the new link.
See this page for more info.
Staff Members Trial Program
Fanofkinopio, Meandcrazy, and Jyappeul have been managing the wiki for two weeks now. Although we haven't seen much of them within the weeks, they are sure to come back soon!
Fandom Customers Tournament 2019
Vote now in the BavariaFest Division Round 2 if you haven't already! May the best customer win!
Spotlight
We have had our Spotlight accepted at the start of the year, and it's just a few more days before you'll never see it again until after a year or so. To access it, scroll down on a (Main) page and there will be a section called "Explore Wikis". FFCW may not come up on the first try, so keep refreshing the page until you see it!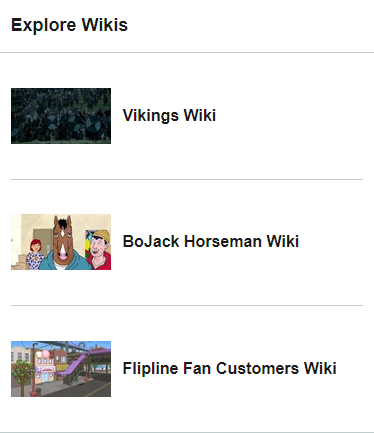 (New section I've decided to add)
WAM Scores since the last wiki update.
Jan 12:

2289

Jan 13: 2240
Jan 14: 2257
Jan 15: 1839
Jan 16: 2045
Jan 17: 2077
Jan 18: 2002
Jan 19: 1948
Jan 20: 1776
Jan 21: 1714
Jan 22:

1711

Jan 23: 1778
Jan 24: 1772
Jan 25: 1940
Jan 26: 2037
AVERAGE: 1961.67

Represents the highest WAM score over the two weeks.
Represents the lowest WAM score over the two weeks.
Featured Poll
Which aspect of a gameria do you find the most exciting?
Quick Info Poll
Have you voted in 4 (or more) of the 6 rounds yet?
Community content is available under
CC-BY-SA
unless otherwise noted.