Jurassic World: Dominion Dominates Fandom Wikis - The Loop
Play Sound
Summer Luau
Preceding Holiday
Next Holiday
Closer Day (Cheeseria 2)


Blooming Flowers Festival (Squeezeria, Theateria)
Cherry Blossom Festival (Cookieria, Sandwicheria, Nachoria, Parkeria, Papa's/Mama's Frogurteria, Cerealria HD, Breakfasteria, and Buneria)
Cinco de Mayo (Cakeria, Popsicleria, Roasteria, Donuteria 2/To Go!, Curry Mia!, Pizzeria Deluxe, Scooperia Refined, Burritoria (NixoKnight), Sushiria Deluxe Refined, Crêperia, Cheeseria SE, Bakeria SE, Cobbleria RS and Bubble Tea Mia! Deluxe, Freezeria 2)
Fashion ShowTime! (Magicalria)
Labor Day (Brownie Mia!)
Chilifest (Stirfryeria and Poutineria)
McDonald's Day (Cakeria HD, Waffle Mia!, Sushiria 2)
Fry Fest (Fry Mia!)
OnionFest (Wingeria V.I.P., Potageria, Wingeria RS, Scooperia 2)
Fashion Frenzy (Goods Mia)
Apocalypse (Drinkeria)
SugarPlex Film Fest (VyKGeria)

Starlight Jubilee (All except Nachoria, Curry Mia!, Stirfryeria, Falafelia, Sushiria 2/HD, Sushiria Deluxe Refined, Hamburgeria, Goods Mia, Buneria, Potageria, Cheeseria SE, the savoury version of Crêperia, Mama's Frogurteria, Drinkeria, Wingeria RS, Bakeria SE, VyKGeria, Freezeria 2)


Greekfest (Nachoria)
Starlight BBQ (Sushiria 2, Curry Mia!, Stirfryeria, Burritoria (NixoKnight), Sushiria Deluxe Refined, Wingeria V.I.P., savoury Crêperia, Bakeria SE, VyKGeria, Freezeria 2)
Starlight Buffalo (Hamburgeria)
Grōōvstock (Goods Mia)
National Chocolate Day (Buneria)
New Year (Cheeseria SE, Potageria)
Lux de Flamma (Mama's Frogurteria, Drinkeria)
Boardwalk Jubilee (Wingeria RS, Cobbleria RS)

Unlocked With
Leonard (Cheeseria 2)


Alicia (Squeezeria)
Savannah (Cookieria, Waffle Mia!, Donuteria 2, Torte Mia!)
Caden (Theateria/To Go!), Cakeria, Popsicleria, Magicalria)
Cure Kohaku (Roasteria. Brownie Mia!, Cakeria HD, Nachoria)
Mo (Theateria HD, Pancakeria 2)
Deniecent (Parkeria, Papa's/Mama's Frogurteria, Breakfasteria)
Mae (Freezeria DELUXE, Curry Mia!, Pizzeria Deluxe, Scooperia Refined, (C/M)ocktailera, Sushiria Deluxe Refined)
Lachesis (Sushiria Deluxe)
Myrrh (Pastaria Deluxe)
Yandel (Cerealria HD)
Utah (Burritoria (NixoKnight), Stirfryeria, Buneria, Potageria, Poutineria, Wingeria RS, VyKGeria, Scooperia 2, Freezeria 2)
Angela (Wingeria V.I.P.)
Kahuna (Cheeseria SE and Bakeria SE)
LePete (Drinkeria)
Hacky Zak (Cobbleria RS)
Sara (Bubble Tea Mia! Deluxe)
Summer Luau is a holiday in the Papa Louie time-management games.
Customers who like this holiday
FSF Customers
FS Customers
Users
Special Effect
In Papa's Wingeria ReSeasoned and Papa's Cobbleria ReSeasoned, the Summer Appetite effect is active during Summer Luau. During this, customers are dissatisfied with larger orders.
Ingredients unlocked during this holiday
Pineapple (unlocked at Rank 51 with Leonard)
Hawaiian Roll (unlocked on Day 2 of Summer Luau)
Mango Cream Cheese (unlocked at Rank 52 with Matthew)
Calypso Sauce (unlocked on the day after reaching Rank 37)
Unknown (Unlocked with TBA at unknown rank)
Coconut Tortilla (Unlocked with Utah on Rank 26)
Ahi Tuna (Unlocked on Day 2 of Summer Luau)
Pineapple Salsa (Unlocked with Chuck on Rank 27)
Calypso Sauce (Unlocked on Day 4 of Summer Luau)
Sweet Maui Onion Chips (Unlocked with Nevada on Rank 28)
Coconut Flour (Rank 36 with Kahuna)
Tuna Filling (Rank 36 with Kahuna)
Pineapple Slice (Day 2)
Calypso Sauce (Rank 37 with Penny)
Sunburst Crust (Day 3)
Mango Filling (Rank 37 with Nick)
Poke (Day 5)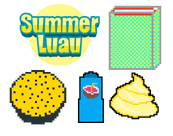 Holiday Costumes
Mama's Holiday Exclusive Music
Beach Party
Summertime, Summer Time!
Sunscreen Project No. 3
Gallery
Trivia
According to her Flipdeck, Willow hates Summer Luau.
Ironically, all of Fanofkinopio's games celebrate this holiday during Winter (Suðri).

However, this is because where Fanofkinopio lives is Winter by the time June comes by.

Papa's Goods Mia is the only game in which this holiday is not celebrated in June, in which it is celebrated in August. This is because June is a Spring month in Creamville.