WHAT?! SOMEONE COPIED ME???!!!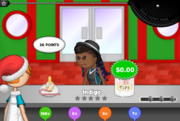 The creator of this character, Geillade12, claims full ownership for their characters. Please do not edit this page without their permission or unless you have a good reason to. Thank you.
Stephanie is a Female customer created by Geillade12.
Hometown: Whiskview
Loves: Key Lime Pie
Hates: Cocky People
Occupation: Baby Sister
Nomination History
Edit
Week
Votes/Percent
Reason

Final Position

1
No Nominations
2
37.5%
None
Nominated
2 points
3
Immune
-
4
Immune
-
5
Immune
-
Her dress shirt and skirt (except for the fringe) are based on the dress Katy Perry uses on Last Friday Night after her transformation.
It is Korean.
She's along with: Sanny, Nikki, Georgia and Hwan are the only female characters of Geillade12 that have been dyed hair.
Her favorite color is Lime.