We're Getting Mutants in the MCU - The Loop
Play Sound
St. Paddy's Day
Preceding Holiday
Next Holiday
Valentine's Day (All except Theateria/HD/To Go!, Freezeria Deluxe (kr), Burgeria DX (kr), Freezeria DKE, Frogurteria, Bakeria SE, and Cobbleria RS)


Dance Studios Festival (Theateria)
Pizza Fest (Theateria HD)
Mardi Gras (Theateria To Go!, Freezeria Deluxe (kr), Burgeria DX (kr), Frogurteria, Bakeria SE, and Cobbleria RS)
Groundhog Day (Freezeria DKE)

Easter (all except Waffle Mia!, Pizzeria Deluxe, Freezeria Deluxe (kr), Freezeria DKE, Goods Mia, Bakeria SE, Bubble Tea Mia! Deluxe, VyKGeria, Freezeria 2)


Wedding Season (Waffle Mia!)
Fanofkinopio's Birthday (Pizzeria Deluxe, Bubble Tea Mia! Deluxe)
Cherry Blossom Festival (Freezeria Deluxe (kr), Freezeria DKE, and Bakeria SE)
New Year (Goods Mia)
April Fools (VyKGeria)
Big Top Carnival (Freezeria 2)

Unlocked With
Lorenz (Theateria/To Go!, Squeezeria, Sandwicheria, Popsicleria, Magicalria, Roasteria, Brownie Mia!, Cakeria HD/To Go!, Nachoria, Waffle Mia!, Donuteria 2, Bakeria Deluxe)


Gregor (Cheeseria 2)
Kylee (Cookieria)
Anna (Cakeria)
Dylan (Sushiria 2)
Kegan (Parkeria, Breakfasteria, and Frogurteria)
Wally (Sushiria Deluxe)
Ricki (Pizzeria Deluxe, Sushiria Deluxe Refined, Bubble Tea Mia! Deluxe)
Julep (Freezeria Deluxe (kr), Burgeria DX (kr))
Georgito (Freezeria DKE and Bakeria SE)
Sean (VyKGeria, Freezeria 2)

St. Paddy's Day is a holiday celebrated in many games. The following characters make their first appearance:
Customers who like this holiday
Special Effect
In Papa's Cobbleria ReSeasoned, the Luck of the Irish effect is active during St. Paddy's Day. Each day, one customer will carry a pot o' gold with a massive bonus--but you won't know who until you or one of your competitors get it!
Holiday-Exclusive Ingredients

This list is incomplete. Please help by adding the correct information to finish this list. Once the list is complete, please remove this template.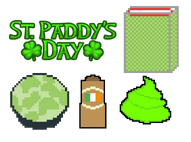 Mama's Holiday Exclusive Music
Lucky One!
Flip-A-Coin
Beware Of The Rainbow
Gallery