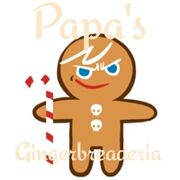 Papa's Gingerbreaderia
is the first gameria made by
GingerBrave
, in the game, you make gingerbread cookies for customers, and you unlock more features as you go through the game!
Description
Your character was promised a special surprise if they worked at the new restaurant in Gingerville. When your character gets there, Papa Louie says the surprise has to be earned through hard work, can you get past all the ranks and get the surprise?
The game has 4 stations, Order, Dough, Bake, and Decorate.
Order: Take customer orders!
Dough: Roll the dough and shape it into gingerbread cookies!
Bake: Bake the cookies until they're done!
Decorate: Put icing, toppings, and more on the cookies!
Customers
Sally (Tutorial)
Sammy (After tutorial)
Holly (Random)
Gordon (Random)
Maddie (Random)
Rocko (Random)
Jimm (Rank 2)
Jefferson (Rank 3)
Ginger (Rank 4)
Kaylie (Rank 6)
Paul (Rank 7)
Kiki (Rank 8)
Cinnaboy (Rank 10)
More soon!
Ingredients
Doughs
Cinnamon (Start)
Chocolate (Start)
Vanilla (Rank 6)
Strawberry (Rank 27)
Rainbowberry (Rank 49)
Icings
Chocolate (Start)
Vanilla (Start)
Caramel (Start)
Whipped Cream (Start)
Blueberry (Rank 2)
Strawberry (Rank 5)
Lemon (Rank 7)
Apple (Rank 10)
Maple Syrup (Rank 12)
Toppings
Chocolate Chips (Start)
Bananas (Start)
Sprinkles (Start)
Lemon Slices (Start)
M&Ms (Rank 3)
Blueberries (Rank 5)
Orange Slices (Rank 9)
Sugar Cube Bits (Rank 13)
Chocolate Coins (Rank 16)
Specials
Chocolate Overflow
3 Chocolate Dough Gingerbread
Each baked to normal time
Each with chocolate icing, and chocolate chips.
Community content is available under
CC-BY-SA
unless otherwise noted.