Links Removed
Because Papa's Floweria has either been discontinued or not worked on in a long time, some of the links of this page have been removed and all the ingredient pages have been deleted. Removing the links reduces the number of wanted pages, and deleting the ingredient pages reduces the number of unnecessary and short pages on the wiki. Please do not add the links back or create the ingredient pages unless you have an administrator's approval. Thanks!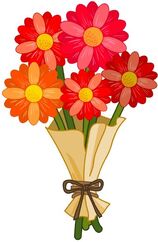 Papa's Floweria is a game created by Cure Kohaku. It is different than most papa's gamerias because instead of making food, you prepare flowers for the customer in a basket, vase, or wrapping. The workers are Adam, Natalie, and the Custom Worker.
Bold means that local is a closer.
Supplies (Ingredients)
Edit
Tulips (start)
Orchids (start)
Poppies (start)
Lillies (unlocked at Rank 3 with Lilli)
Roses (unlocked at Rank 5 with Rose)
Violets (unlocked at Rank 10 with Violet)
Sunflowers (unlocked at Rank 14 with Charlotte)
Hibiscuses (unlocked at Rank 19 with Caden)
Petunias (unlocked at Rank 30 with Danielle)
Cherry Blossoms (unlocked at Rank 42 with Blossom)
Daisies (unlocked at Rank 51 with Daisy)
Lavenders (unlocked at Rank 64 with Papa Lucci)
Pink (start)
Red (start)
White (start)
Purple (unlocked at Rank 2 with Poppy)
Blue (unlocked at Rank 7 with Yoshi)
Green (unlocked at Rank 9 with Liam)
Yellow (unlocked at Rank 13 with Wester)
Orange (unlocked at Rank 27 with Lucas)
Indigo (unlocked at Rank 45 with Sam)
Fuchsia (unlocked at Rank 60 with Lizzy)
Straw Basket (start)
Pink Basket (start)
Blue Basket (unlocked at Rank 2 with Nickomaine)
Orange Basket (unlocked at Rank 8 with Diamond)
Black Basket (unlocked at Rank 17 with Albert)
Red Basket (unlocked at Rank 28 with Boomer)
Green Basket (unlocked at Rank 46 with Lisa)
Purple Basket (unlocked at Rank 50 with Aliah)
Glass Vase (start)
White Vase (start)
Cream Vase (start)
Pink Vase (unlocked at Rank 6 with Anita)
Orange Vase (unlocked at Rank 11 with CoolProDude)
Yellow Vase (unlocked at Rank 15 with Andy)
Blue Vase (unlocked at Rank 23 with Bobby)
Brown Vase (unlocked at Rank 47 with Brandon)
Wrapping
Edit
White Wrapping (start)
Pink Wrapping (start)
Yellow Wrapping (unlocked at Rank 4 with Brittany)
Red Wrapping (unlocked at Rank 12 with Chinatsu)
Cyan Wrapping (unlocked at Rank 18 with Issac)
Lavender Wrapping (unlocked at Rank 29 with Danny)
Peach Wrapping (unlocked at Rank 40 with Peach)
Green Wrapping (unlocked at Rank 54 with Luigi)
Holidays
Edit