Don't edit without permission of Dark hand10109!!! Unlike you Dark hand10109 or very important administrator.
Papa's Buneria is the first fanon game in the Papa Louie restaurant management series developed by Dark hand10109. The game was first announced on July 26, 2021.
Description
Previews
07/26/2021: Sneak Peek: Papa's Buneria!!!
07/26/2021: Sneak Peek: New Holidays: Groundhog Day and Chocolate Day!
07/28/2021: Sneak Peek: Specials!
07/28/2021: Sneak Peek: Stickers!
Workers
Stations
Order Station
Build Station
Bake Station
Drink Station
Customers
Vanya (Tutorial)
Cherissa (After Tutorial)
Taylor (Day 2)
Chippi (Rank 2)
Franco (Rank 3)
Clover (Rank 4)
Rudy (Rank 5)
Willow (Rank 6)
Koilee (Rank 7)
Timm (Rank 8)
Olivia (Rank 9)
Hank (Rank 11)
Santa (Rank 16)
Liezel (Rank 21)
Marmot (Rank 26)
Mindy (Rank 31)
Foodini (Rank 36)
Tohru (Rank 41)
Utah (Rank 46)
Gino Romano (Rank 51)
Captain Cori (Rank 56)
Cooper (Rank 61)
Closers
(Locals in Bold)
Debutants
(Closers in Bold)
Holidays
(New Holidays in Bold)
Standard Ingredients
Doughs
Traditional Dough (Start)
Flaky Dough (Start)
Crispy Dough (Unlocked with Chippi at Rank 2)
Thick Dough (Unlocked with Mayor Mallow at Rank 17)
Ladyfinger Dough (Unlocked with Mindy at Rank 31)
 ?
 ?
 ?
Bun types
Round (Start)
Double (Unlocked with Willow at Rank 6)
X Bun (Unlocked with Nicolas at Rank 20)
 ?
 ?
 ?
 ?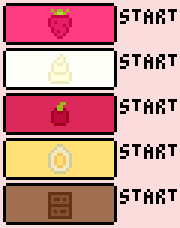 Fillings
Cherry (Start)
Egg (Start)
Strawberry Jam (Start)
Chocolate (Start)

Vanilla Cream

(Start)
Poppy Filler (Unlocked with Taylor at Day 2)
Cottage Cheese (Unlocked with Rudy at Rank 5)
Green Grape (Unlocked with Olivia at Rank 9)
 ? (Unlocked with at Rank)
 ? (Unlocked with at Rank)
 ? (Unlocked with at Rank)
 ? (Unlocked with at Rank)
 ? (Unlocked with at Rank)
 ? (Unlocked with at Rank)
 ? (Unlocked with at Rank)
 ? (Unlocked with at Rank)
 ? (Unlocked with at Rank)
 ? (Unlocked with at Rank)
 ? (Unlocked with at Rank)
 ? (Unlocked with at Rank)
 ? (Unlocked with at Rank)
 ? (Unlocked with at Rank)
 ? (Unlocked with at Rank)
 ? (Unlocked with at Rank)
Inner syrups
Eclair Syrup (Start)
Apricot Syrup (Unlocked with Koilee at Rank 7)
Outer syrups
Vanilla Syrup (Start)
Shakers
Crushed Peanuts (Start)
Toppings
Pineapple Slice (Start)
Apple Slice (Start)
Cherry (Start)
Cookie (Unlocked with Timm at Rank 8)
Drinks
Tea (Start)
Milk (Start)
Coffee (Unlocked with Franco at Rank 3)
 ? (Unlocked with at Rank)
 ? (Unlocked with at Rank)
 ? (Unlocked with at Rank)
Drink syrups
Water (Start)
Honey (Unlocked with Clover at Rank 4)
Drink shakers
Sugar (Start)
Soda (Start)
Mint (Unlocked with Olivia at Rank 9)
Holiday Ingredients
Holiday
Rank/Day
Ingredient
Picture

Rank 6

Rank 6

Day 2

Rank 7

Rank 8

Shadowberry Filling

Yarri Tooth Cookies

Potion Tea

Pumpkin Syrup

Rank 11

Rank 11

Day 2

Rank 12

Rank 13

Pumpkin Filling

Oatmeal

Cranberry Syrup

Rank 16

Rank 16

Day 2

Rank 17

Rank 18

Lollipop Filling

Frosted Wreaths

Snowflake Sprinkles

Cranberry Tea

Eggnog Aioli

Rank 21

Rank 21

Day 2

Rank 22

Rank 23

Dragonfruit Filling

Mini Spring Rolls

Rice

Grapefruit Juice

Persimmon Syrup

Groundhog Day
Rank 26

Rank 26

Day 2

Rank 27

Rank 28

Rank 31

Rank 31

Day 2

Rank 32

Rank 33

Rank 36

Rank 36

Day 2

Rank 37

Rank 38

Rank 41

Rank 41

Day 2

Rank 42

Rank 43

Rank 46

Rank 46

Day 2

Rank 47

Rank 48

National Chocolate Day
Rank 51

Rank 51

Day 2

Rank 52

Rank 53

Rank 56

Rank 56

Day 2

Rank 57

Rank 58

Rank 61

Rank 61

Day 2

Rank 62

Rank 63
Specials
| Special | Picture | Prize | Bonus |
| --- | --- | --- | --- |
| Apple Sin | | | +2 |
| Bun Pot | | | 140% Points |
| Cherberry | | | 1.5x |
| Chipsicake | | | 2x |
Stickers
Sticker

Number

Name
Achievement
Sticker Earned
Sticker Picture
1
Winter Wonderland
Reach Winter
Buffalo Wing

2
Spring Has Sprung
Reach Spring

3
Summer

Vacation

Reach Summer

4
Fall Harvest
Reach Autumn

5
Spooktacular

Unlock all Halloween toppings

6
Thankful
Unlock all Thanksgiving toppings

7
Holiday Buns
Unlock all Christmas toppings

8
Bun Prosperity
Unlock all Lunar New Year toppings

9
Spring Will Be Cold!
Unlock all Groundhog Day toppings
10
Unlock all Holi toppings

11
Unlock all Big Top Carnival toppings
12
Unlock all Cherry Blossom Festival toppings

13
14
15
16
17
18