WHAT?! SOMEONE COPIED ME???!!!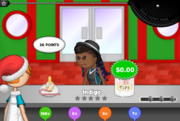 The creator of this character, Geillade12, claims full ownership for her characters. Please do not edit this page without her permission or unless you have a good reason to. Thank you.
Marina is a female customer created by Geillade12.
Flipdeck Info
Edit
Hometown: Calypso Island
Loves: Summer Luau
Hates: Starlight BBQ
Occupation: Waitress
Marina always had the dream of one day could she be a dancer, so she decided to take classes at the Dance Institute with Reggie, in her personal life she is a waitress at the Luau'Oko a restaurant located 500 meters away from home in Sunshine Beach, her younger sisters Summer and Nahomi decided to support her in the dance classes and in her work as a waitress, Marina has a perfect life.
His favorite color is Yellow
Being the older sister, the color of her hair is dark.
Usually, eat tropical food.
It is based on the character Nevada.
Other Styles
Edit