Icy Island is a fictional continent created by Fanofkinopio, and the most prominent location in his fanon content.
History
Its history is based off the events of Flipline Heroes: Dark Blade and Flipline Heroes: Drabulti Rush.
Countries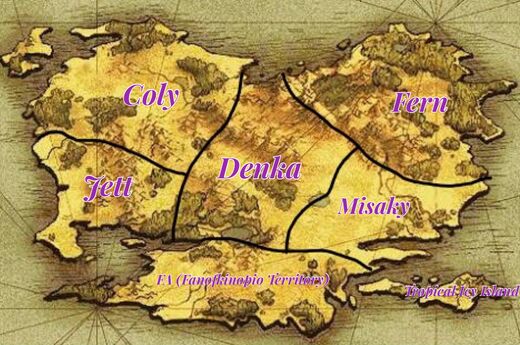 The most populated country in Icy Island. All of Papa Lewis' restaurants are located here. Most of the locals in the gamerias were born in this country.
The second-most populated country. The largest city (both in area and population) in Icy Island, Calphy is located here. Some locals were born here.
A non-inhabitable country due to the surrounding and sacred trees, some of which are 2,000 years old. Most of the agriculture is produced here. It is revealed during the airing of The Amazing Flipline Race that a magical portal is located here to transport Icy Island residents to Earth and back. Marianna and Ilyanna lived and survived in Fern for years.
The third-most populated country. Fanofkinopio's ancestors became extremely close friends with John Icey and he therefore allowed them to change the state to how they wanted, so they chose this name because they fortune-told a person by the alias Fanofkinopio would save the world one day (which is untrue).
The least populated country, despite being one of the largest. A lot of historical buildings are located here. Mae and Linda were born here when her mother and father time-travelled to the future after Rosaline told them their errors and forced them to witness 100 years after the war.
A currently developing country. It has slightly more population than Coly.
It is an island and formerly part of Misaky until it became its own country. This location is the most popular tourist destination with hundreds of beaches. There are more tourists that visit here annually than the population of Icy Island.
Seasons
The four seasons are named after the four dwarves who represent the four cardinal points in Norse Mythology.
Norðri - Northern (Summer)
Austri - Eastern (Autumn)
Suðri - Southern (Winter)
Vestri - Western (Spring)
Months
Each month is named after one of the Twelve Crusaders from Fire Emblem: Genealogy of the Holy War.
Heim (January)
Baldr (February)
Hezul (March)
Od (April)
Njörun (May)
Dain (June)
Neir (July)
Ulir (August)
Fjalar (September)
Thrud (October)
Ced (November)
Bragi (December)
All of these restaurants are located in Sugar, Misaky
Other
All of these stores are located in Sugar, Misaky
NOTE: Please read this to understand valid and invalid reasons for editing this page. Thank you and have fun on the wiki!
Community content is available under
CC-BY-SA
unless otherwise noted.