WHAT?! SOMEONE COPIED ME???!!!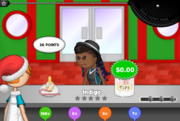 The creator of this character, Geillade12, claims full ownership for her characters. Please do not edit this page without her permission or unless you have a good reason to. Thank you.
Georgia is a female customer created by Geillade12.
Hometown: Burgerburgh
Loves: Cloudberry
Hates: Heights
Occupation: Model
Her hair color is not really natural, it is dyed, she dyed it for Feminine Nature magazine, since then she has it in that color.
He likes things related to nature, one of those things are wild berries.
He shaved because he participated in the current fashion magazine for each station.

Magazine in which her are in the summer section.

She's along with: Sanny, Nikki, Hwan and Stephanie are the only female characters of Geillade12 that have been dyed hair.
Other Styles
Edit