Danny is a character made by this Penguin. He first would appear in Papa's Sushiria.
Flipdeck Info
Hometown: Sakura Bay
Loves: Coffee
Hates: Cold Weather
Occupation: Sakura Bay High Student
Danny is a young student from Sakura Bay. Most of the time he spends in Sakura Bay Library, where he reads book and drinks a loads of coffee. Due to his defect of vision, he very deeply cares for his glasses. After a hard school day, instead of going to library, he comes to Papa's Sushiria for some tasty sushi. With glass of coffee, of course.
Appearance
Style A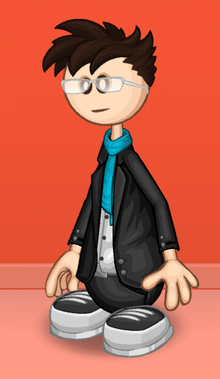 Style B
Orders
Papa's Sushiria
Normal
Momoiro Soy Paper
Brown Rice
Not Flipped
Ginger Miso Sauce
Sesame Seeds
Bubble Tea: Mocha Tea with Sugarplum Bubbles
During Maple Mornings
Kiiroi Soy Paper
Brown Rice
Not Flipped
Sesame Seeds
Maple Syrup
Bubble Tea: English Breakfast Tea with Tapioca Pearls
Papa's Pancakeria HD
Normal
2 French Toasts
Whipped Cream
Honey
Blueberries
Drink: Coffee with Cocoa
During Sugarplex Film Fest
2 French Toasts
Whipped Cream
Butterzinger Syrup
Raisin Duds
Drink: Coffee with Cocoa
Trivia
It is possible that Danny is a vegetarian. This comes from the fact that he never orders meat.

This can be the reason why he doesn't have an order from Papa's Taco Mia!, Papa's Wingeria and Papa's Hot Dogeria. Strangely, he doesn't comes there even if two of these restaurants serve tofu as meat's substitute.

In all games where coffee is available, he is ordering it.
His Flipdeck says that he orders Coffee in Papa's Sushiria, but this drink is not available in this restaurant.
Community content is available under
CC-BY-SA
unless otherwise noted.