Azura is a female customer who debuted in Papa's Cupcakeria Deluxe.
Survivor: Madamadamadamada
She is a contestant on Meandcrazy's gameshow's first season, Survivor: Madamadamadamada. She was placed on the Dream tribe.
History
Episode 1
Azura started on the Dream tribe. She quickly made bonds with Camila and Casey, forming the alliance "The Dummies". Dream won the first immunity challenge, keeping her safe.
Episode 2
Azura competed in the combined reward/immunity challenge in the swimming portion. Their tribe was the first one to finish the swimming portion. However, Eggy blew up their lead at the puzzle portion and Dream lost immunity. Back at camp, Andy and Drew campaigned for Eggy's elimination while she was at Exile Island. Azura was on board with this idea. However, Camila saw this as a shot to flip to vote with Eggy. At tribal, Eggy played her hidden immunity idol, negating Azura's vote against her and sending her home.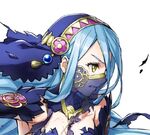 This list is incomplete and or has not enough information. Please remove this template when the information or more information has been added.
Azura's Voting History
Episode
Azura's Votes
Votes Against Azura
1
Dream Tribe Immune
2
Eggy
Camila, Eggy
Voted Off, Episode 2
Items unlocked with her
Trivia
NOTE: Please read this to understand valid and invalid reasons for editing this page. Thank you and have fun on the wiki!
Community content is available under
CC-BY-SA
unless otherwise noted.