WHAT?! SOMEONE COPIED ME???!!!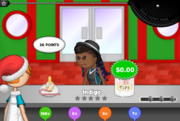 The creator of this character, Animatronix, claims full ownership for their characters. Please do not edit this page without their permission or unless you have a good reason to. Thank you.
Anthony is a male character created by Animatronix. He is the male worker in Papa's Pancakeria.
Hometown: Frostfield
Loves: Marshmallow
Hates: Violence
Occupation: Adventurous, Papa's Pancakeria Worker
Kingsley's Customerpalooza 2016
Edit
Monty in Round 2 of the Frostfield Division (2,596-2,895)
Justin in the Frostfield Semi-Finals (2,409-2,124)
Emmeline in the Frostfield Finals (2,653-4,910)
Other Styles
Edit
Animatronix's Pages
Games/Projects
Currently working on
Papa Louie: When Sundaes Attack! (a New Adventure)|Papa Louie: When Sundaes Attack! • Papa Louie: When Burgers Attack! (a New Adventure)|Papa Louie: When Burgers Attack! • Papa's Muffineria
Completed
N/A
Discontinued
Papa's Drinkeria
Tournaments
N/A